Established in 1978, Decorex International is firmly recognised among the international design community as the trusted resource for high-end interiors. Providing visitors with ideas and inspiration, Decorex is the show where you can discover the best of design, craftsmanship, new technology and talent from the 400 companies exhibiting.
Returning to the prestigious location of Syon Park for this annual four day event, Decorex International sees exhibitors from established names through to emerging talent launch new collections alongside a host of interactive feature areas.
We at Designer's Atelier are honoured to be a part of Decorex International this year and we will be delighted to see you at our stand ( K60 ) for the launch of our Kaleidoscope Collection.
The Kaleidoscope Collection
The Kaleidoscope Collection exclusively created for Designer's Atelier by Ewelina Mlynarek is intuitive, radical and dynamic.
Inspired by Dame Zaha Hadid's parabolic shapes which became a trade mark of her aesthetic, Ewelina playfully uses complex patterns and vivid colours reminiscent of a kaleidoscope which sees its bicentennial anniversary this year.
Invented by a prolific Scottish physicist and the father of experimental optics Sir David Brewster, the kaleidoscope finds its roots in Greek as well as the Indo European words meaning "beautiful form to see". Sir David Brewster received several honorary degrees and even counted Queen Victoria among his fans. Initially intended as a scientific tool, the kaleidoscope proved to be a huge success as a toy, resulting in 200,000 pieces being sold in London and Paris in just three months.
Designer's Atelier's collection consisting of Ewelina's kaleidoscopic imagery creates a visually stunning impact that blurs the lines between art and design, drawing viewers into a psychedelic wonderland. Arousing one's curiosity a collaboration between a philosophy design practise and this up and coming textile designer, provides a glimpse into another world of strangeness and newness, translating the continuous fluidity of unusual patterns into sculptural sensuality.
The exclusive spring/ summer collection of upholstery fabrics, velvet cushions, wallpapers, 100% silk scarves, dinnerware and artwork is printed in the United Kingdom using the finest materials.
Product Range:
Furnishing Velvet
1. Kaleidoscope Velvet Spring, w 140 cm, 88% Cotton 12% Polyester
Linen Fabric
2. Kaleidoscope Linen Spring, w 140 cm, 50% Linen 40% Cotton 10% Nylon
Furnishing Velvet
3. Kaleidoscope Velvet Summer, w 140 cm, 88% Cotton 12% Polyester
Linen Fabric
4. Kaleidoscope Linen Summer, w 140 cm, 50% Linen 40% Cotton 10% Nylon
Velvet Cushions
1. Kaleidoscope Velvet Cushion Spring, 88% Cotton 12% Polyester, 55 cm X 55 cm
Cushion Pad 100 % Cotton Cover Fabric, Duck Feather Filling
2. Kaleidoscope Velvet Cushion Summer, 88% Cotton 12% Polyester, 55 cm X 55 cm
Cushion Pad 100 % Cotton Cover Fabric, Duck Feather Filling
Linen Cushions
3. Kaleidoscope Linen Cushion Spring, 50% Linen 40% Cotton 10% Nylon, 55 cm X 55 cm
Cushion Pad 100 % Cotton Cover Fabric, Duck Feather Filling
4. Kaleidoscope Linen Cushion Summer, 50% Linen 40% Cotton 10% Nylon, 55 cm X 55 cm
Cushion Pad 100 % Cotton Cover Fabric, Duck Feather Filling
Wall Paper
1. Kaleidoscope Wallpaper Spring, 'Digital Print Coated Non Woven' Material,
W 58 X 10M Roll
2. Kaleidoscope Wallpaper Summer, 'Digital Print Coated Non Woven' Material,
W 58 X 10M Roll
Silk Scarves
1. Kaleidoscope Silk Scarf Spring, 130 X 130, 100% Silk
2. Kaleidoscope Silk Scarf Summer, 130 X 130, 100% Silk
Pyramides
1. 3D Kaleidoscope Artwork Spring, w 58 cm X h 50cm
2. 3D Kaleidoscope Artwork Summer, w 58 cm X h 50cm
Dinnerware
1. Kaleidoscope Dinnerware Spring, Finest English Bone China
2. Kaleidoscope Dinnerware Summer, Finest English Bone China
In Development.

Dagmar Holub
Designer's Atelier
I run a distinctive award-winning philosophy design practice in London for interiors with integrity and meaning.
As a designer I use my background in History and Philosophy to help clients towards a clearer definition of who they are, which I then translate into their environment.
Recent projects include a grand townhouse opposite the British Museum, an apartment in South Kensington, a design concept for a 'Grand Designs room set competition'. Past projects include purchasing for a private residence in Dubai, a penthouse design inspired by the human body; a cushion collection which sold at Harrods.
After a stint working for the famed Andrew Martin I procured a coveted internship with interiors icon Kelly Hoppen. Sir Terence Conran and Philippe Starck judged me worthy of second prize in the One to Watch Mydeco competition. BIDA Review magazine showcased me as runner up in the Il Tempo Abitare competition. I was one of three winners in Homes & Gardens magazine's competition and most recently, I was awarded Best of Houzz 2016!
My design philosophy is beyond style, it is based on the philosophical ethos and personality of an individual.
Services Provided:
Making it You!, Transparent Purchasing, Project Management, Branding your Interior, Collaborating for Impact
Ewelina Mlynarek
Ewelina Mlynarek is a creatively unrestricted textile designer with a fashion textile degree from the University for the Creative Arts in Rochester where she specialised in digital print.
Whilst studying for a Foundation Diploma in Fashion Design in London Ewelina had her design banned for being too controversial as the rose petals in her collage consisted of different Kama Sutra poses and due to health and safety issues she was not permitted to use a broken mirror in another project at the university.
At the age of six she wanted to be the 'Queen of Stars' at a masquerade ball so she designed her very first dress for this occasion. Later her desire to look different gained momentum with custom made shirts she created using scissors and marker pens. Her early experiments did not stop there; she would paint; draw and write on walls too.
Her love for Alexander McQueen's creativity resulted in an internship at his studios where she was noticed for her bespoke fabric hand dying.
Ewelina's quest for unique expression always starts with extensive research before any experiments with patterns and shapes take place. She is driven by curiosity and as an artist she can never predict the final outcome while she plays within the design process.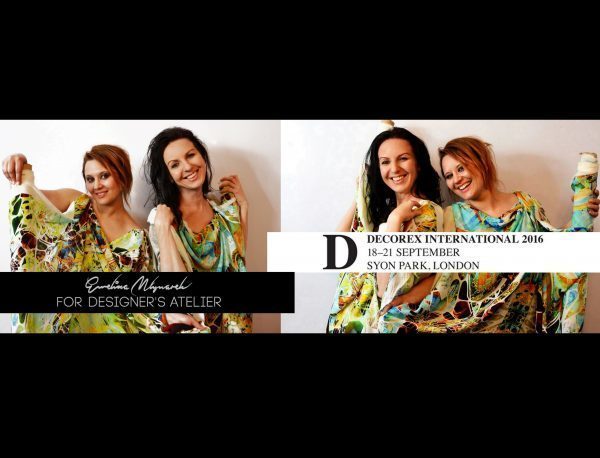 200 years on the Victorian kaleidoscope craze is not yet over. Visit Designer's Atelier at stand K60 at Decorex!
Inspiration